Pedagogical Museum of Ukraine: Presentation of Activities at an International Conference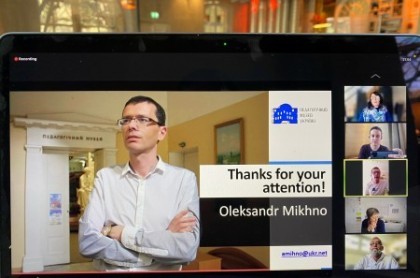 On March 22, 2022, an online Conference of German-language School Museums in Germany, Austria and Switzerland took place, which was attended by the director of the Pedagogical Museum of Ukraine Oleksandr Mikhno.
The invitation came from the director of the Nurenberg School Museum (Schulmuseum Nürnberg) Mathias Rösch.
The organizers invited the director of the Pedagogical Museum of Ukraine not only because Europe supports Ukraine in resisting Russia′s full-scale military aggression, but also because Oleksandr Mikhno, Doctor of Sciences in Pedagogy, is a well-known European scientist and ardent supporter of museum work. The Pedagogical Museum of Ukraine has long-standing fruitful cooperation with similar thematic museums in Europe. Olexandr Mikhno′s significant efforts to develop modern museum business, as well as the widespread promotion of the institution′s activities have not gone unnoticed by foreign colleagues.
Olexandr Mikhno made a report "Pedagogical Museum of Ukraine during the Russian-Ukrainian war." In his speech, the speaker noted that under martial law the staff of the Pedagogical Museum of Ukraine works remotely, on the information front, implementing online projects on the history of Ukrainian education, development of pedagogical thought, in general, the invaluable Ukrainian national heritage.
The speech ended with words of gratitude to fellow museums workers from Germany, Spain, Latvia, Portugal, the Czech Republic, Bulgaria and Slovenia, who sent letters of support in the fight against the Russian invasion to the Pedagogical Museum of Ukraine.
During the Russian-Ukrainian war, the Pedagogical Museum of Ukraine did not cease its activities on the Internet and became a kind of media resource.
Olexandr Mikhno expressed confidence in the victory: "Behind us - the Centuries-Old History of the Nation and National Culture, behind us - our National Heritage, behind us - Ukraine! We, Ukrainians, when we talk about the future now, do not say "after the war", but "after the victory". And every day we bring our inevitable victory closer on all fronts - military, volunteer, information".
Lydia TKACHENKO,
Head of the Sectorof the
Scientific and Information Processing
and Dissemination of Information of the NAES of Ukraine

17:27 30.03.2022