International Days of Adult Education in Ukraine: Zaporizhzhia region adopts the baton of the international action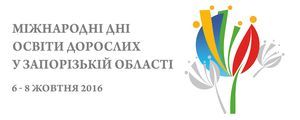 6 – 8 October, 2016 in Zaporizhzhia region the International Days of Adult Education will be held, the main goal of which is to promote the formation in Ukrainian society of understanding the value of life-long education, personal and professional self-development. As part of the event is the Forum "Adult Education - Regional development: experiences, challenges, strategies" ( Zaporizhzhia), International Scientific Conference "Adult Education in the context of civilizational change: experience, problems and prospects" (Melitopol), round tables with the representatives of local authorities, employers of the region, exhibitions of providers of educational services for adults etc.
The International Days of Adult Education in Zaporizhzhia region is carried out by the Ministry of Education and Science of Ukraine, the National Academy of Educational Sciences of Ukraine, the Representative office of the German Adult Education Association DVV International in Ukraine, the Ukrainian Association of Adult Education, the Zaporizhzhia Regional State Administration, the Executive Committee of the Melitopol City Council and other institutions.

13:50 04.10.2016