Training in universities of Germany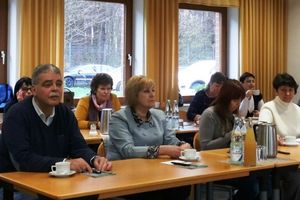 In the framework of the EU project under the umbrella of the TEMPUS program "Ecological education in Belarus, Russia and Ukraine" the Director of the Institute of Vocational Education, Dr., Prof., the correspondent member of the National Academy of Educational Sciences of Ukraine, Valentyna Radkevych and, the junior researcher of the laboratory of foreign VET systems, Snizhana Leu took part in the training course in Germany from the 1stto the 5th of February, 2016. The training course was dedicated to the issues of didactical aspects of the distance courses design and implementation to develop the ecological competence for pedagogical staff of professional schools.
The training course program consisted of two parts: ecological and didactical ones. The ecological part provided knowledge on ecological management, waste economy, environment protection, healthcare system and work-safety at professional schools. The didactic one was dedicated to skills of "learning fields" design for vocational training of youth and training process organization taking into account the dual aspects of the VET system.
Ïðåñ-ñëóæáà ÍÀÏÍ Óêðà¿íè
15:19 10.02.2016