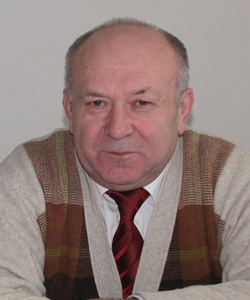 Mikhaylo Burda
Chief Academic Secretary of the National Academy of Educational Sciences of Ukraine
Full member (Academician) of the NAES of Ukraine. Doctor of Pedagogical Sciences, Professor, Honoured Figure of Science and Technology of Ukraine.
Born on January 2, 1949, in Krasnyi Kolyadin Talalaivka district of Chernihiv region.
Graduated from the Physics and Mathematics Faculty of the Nizhinsky State Pedagogical Institute named after Nikolai Gogol (1969).
Expert in the field of didactics and methodology of teaching mathematics. Researches the problems of the mathematics education content, teaching geometry at the secondary and higher schools. Worked out a methodological concept of differentiated teaching of mathematics at secondary school, on the basis of which he created textbooks on geometry, methodical and teaching aids. He is one of the developers of the State standard of the general secondary education for basic and higher schools, curricula and the concept of profile teaching in the higher school.
2 Dsc and 12 Ph.D. theses were defended under his guidance.
He is a Member of two Specialized Scientific Council for defending doctoral theses, Head of the Commission on teaching aids and equipment of educational institutions at the Ministry of Education and Science of Ukraine.
Author of over 200 scientific papers on didactics, methods of teaching mathematics, the content of the general secondary education including textbooks "Geometry" for the 7, 8, 9, 10 and 11 grades", "Mathematics" for the 10 and 11 grades, in particular manuals "Solving problems on construction", "Solving geometric problems of increased complicacy in 8-9 grades," "Study of geometry at basic school." He is a member of editorial boards of five professional journals.
Awarded the Order "For Merits" third degree, Diploma of the Cabinet of Ministers of Ukraine, the breastplates of the Ministry of Education, Science, Youth and Sports of Ukraine "For scientific achievements", "Vasilyi Sukhomlinskyi", medals of the NAES of Ukraine "Hrigoryi Skovoroda","Ushinskyi K.D."
Office Address: 52-A, Artema Str., Kyiv,
Tel.: +38 044 481 -3704