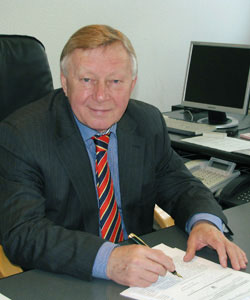 Gurzhii Andrii
Vice-President of the National Academy of Educational Sciences of Ukraine
Full Member (Academician) of the NAES of Ukraine, Doctor of Technical Sciences, Professor, Honored Figure of Education of Ukraine. Laureate of the State Prize of Ukraine in Science and Technology, State employee of the first rank.
Honorary Doctor of the National Pedagogical University named after M.P.Dragomanov, Professor Emeritus of the Kherson State University, the Luhansk National University named after Taras Shevchenko, the Volyn National University named after Lessya Ukraynka and the Dnipropetrovsk University of Economics and Law.
Born on December 14, 1946, in the village Ivanivka Kamyansko-Dniprovsk district Zaporizhzhya region. He graduated from the Kyiv Polytechnic Institute by specialty "Information-Measuring Devices" (1969) and graduated the post-graduate study at the same institution (1972 p.).
A specialist in the theory and methods of teaching computer science, developing methods and implementation of telecommunication and information technologies and teaching aids into the teaching process. Developer of the State program "ICT in education and science," State program "Science in universities" and educational and visual aids and computer teaching aids for general secondary schools, 28 branch standards for the computer training equipment. Prepared 3 Doctors and 17 Candidates of Science.
Author of about 550 scientific and methodical works, including 5 monographs, 32 textbooks, 63 manuals, 48 certificates of authorship and 32 patents. Deputy Chairman of the Expert Council of the Ministry of Education and Science of Ukraine, member of the editorial boards of professional journals "Computer in family and school", "Intellectual Property", member of the State Prize Committee of Ukraine in the field of education and Interbranch Coordination Council for Informatization of Education.
Awarded the Order "For Merits" I, II and III degrees, Diploma of the Cabinet of Ministers of Ukraine, Diploma of the Verkhovna Rada of Ukraine, the breastplates of the Ministry of Education and Science of Ukraine "For scientific achievements", "Vasilyi Sukhomlinskyi", "Petro Mohyla", "Excellence in Education", Gold medals of the World Intellectual Property Organization, the National Academy of Science of Ukraine "For scientific achievements", Medals of t he National Academy of Educational Sciences of Ukraine "Ushinskyi K.D." and "Hrigoryi Skovoroda".
Office Address: 52-A, Artema Str., Kyiv, 04053, Presidium of the NAES of Ukraine
Tel.: +38 044 481 -3707